Feeling Pain and an urgent need for a massage?
Do you hate waking up with a

 

stiff neck

 

every morning?
Do you always have a

 

bad mood

 

in the morning and just consider yourself not to be a

 

morning person?
Treat yourself with our unique

 

CervicalCloud™ Neck Massager, the best gadget for neck and shoulder pain, and experience the effects of a

 

real massage from a masseuse.
With its lightweight, compact form factor, and stylish design, the

 

Neck and Shoulder Massager

 

is perfect for use during commutes. Just 15 minutes a day is all that's required to a noticeable reduction in neck and shoulder discomfort. You're never far from relief, as it can be relied on to take the pressure off.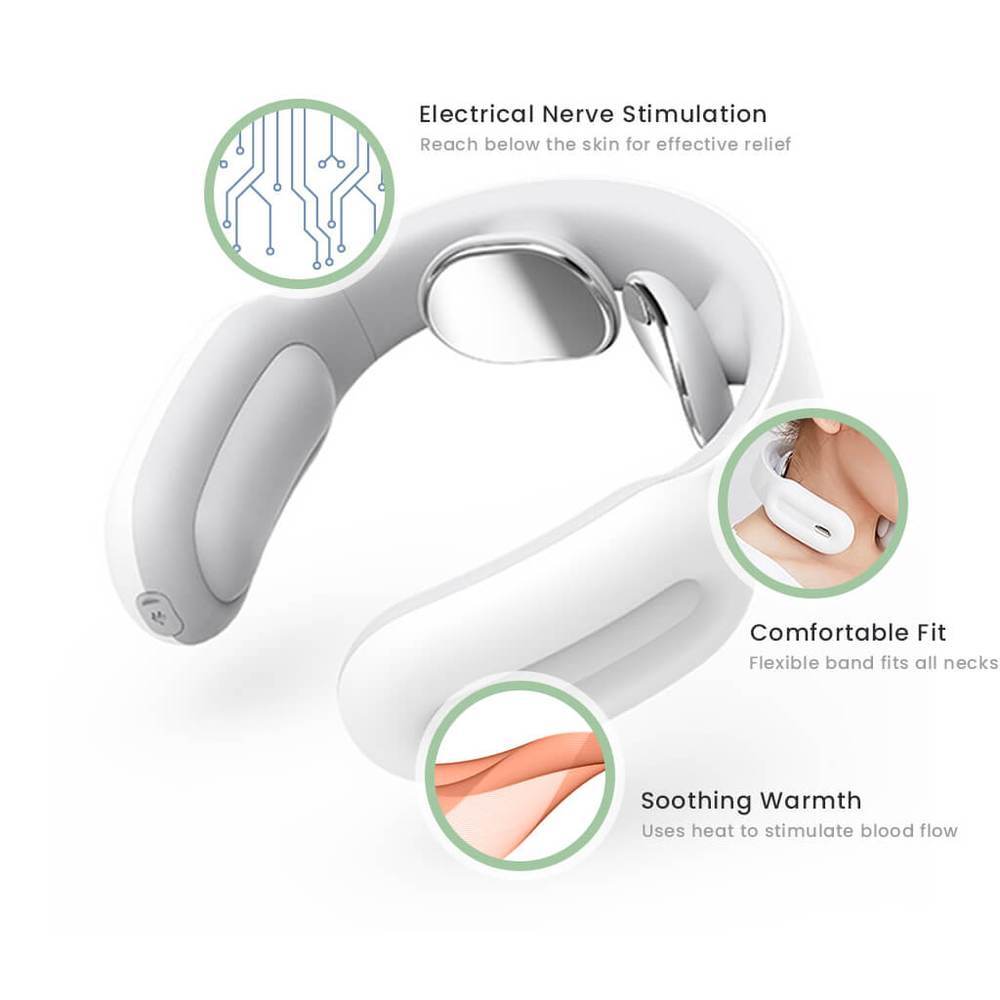 WHY USE CERVICALCLOUD NECK MASSAGER?



It Will help

 

relieve pressure

 

on the

 

lower back
It relieves

 

neck and shoulder

 

discomfort by soothing pain points.
Restore tired and sore neck muscles.
Reduce neck strain and restore damaged cervical balance.
Relieve aches, knots, tension, and stress.
Ease discomfort and open pain points, and lighten discomfort associated with cervical spine, noticeably reducing neck and shoulder pain with daily use.
Personal electrotherapy

 

with different levels of force, and massage modes based on industry methods;

 

'Acupuncture and

 

Moxibustion

',

 

'PressureMassage', and '

Pulsate

'.
Smart Neck Massager
It will automatically shut down after 15 minutes of operation

Charged with Micro-USB general interface, getting rid of the limitations of traditional lines.

0.35lb, it's ultralight and portable, can use it anywhere, even on the plan
How It Works :
It is believed that 10% of the world's population is suffering from neck pain.

Now you can enjoy massage therapy at home. Simple, effective, portable. With the massager being rechargeable it means you can use it anywhere around the home, as well as at the office, or even on vacation. Neckology™ really was designed with the neck in mind as delivers powerful massage right to the source of your pain. You can control the intensity with three different modes, acupuncture, pulsation, and massage, as well as build-in heat function to truly tailor your needs.

Portable and cordless. Use the massager even when you are not near a plug.
Ideal for relaxation or meditation time. Allows you to use it without annoying background noise to disturb your peaceful moment.
Instructions:

1. Before use, it is recommended to wet the skin with a wet towel. To experience the best massage effect, please make sure the two electrode plates keep closely touching your skin (tie up your hair and take off necklaces before use). Follow all safety precautions before use.

2. Long press the switch button for two seconds. You will hear two beeping sounds, which means the massager is on.

3. To select the mode - press button Ⓜ on the remote control. The three modes, acupuncture mode, pulsation mode or massage mode, can be switched on in the cycle.

4. To select intensity - press ''+'' to increase and ''-'' to decrease intensity on the remote control. The intensity has 15 levels, starting from 0 and increasing gradually to 15.

5. To select heating press heating symbol on the remote control and then ''+'' to increase and ''-'' to decrease the temperature with the highest of 42°C ( 107.6°F )

6. Timing - the massager automatically turns off after 15 minutes. It is recommended to use it no more than 30 minutes a day.
Specifications : 

Size : 
The size of the portable neck massager with heat function and magnetic emote control is  5.3 x 5.7 x 1.96 inches
Material :  Made of durable ABS thermoplastic and silicone material which is    famed for its durability and longevity
Item Type : 
Massage & Relaxation
Suggestion : 
15 minutes everyday
Battery capacity : 
1600mAh
Duration : 
15 minutes a day for about 1 month