Foldable Pet Dog Cat Carrier Cage Collapsible Travel Kennel - Portable Pet Carrier Outdoor Shoulder Bag for Puppy Kitty
MATERIAL :

Made of lightweight and durable EVA, waterproof, anti-rust, low impact, insulation, sound insulation, environmental protection. Hardcover shell, comfortable and comfortable inside.
EASY STORAGE :

The soft middle can be folded and folded, and the top and bottom can be zipped together, so the entire bracket can be placed in a neat small package, and can be stored in a small storage space like under a bed or when traveling Carry it with you.
HARD BOTTOM AND COMFORTABLE INTERIOR :

The hard bottom provides strong protection for your pet, and the reinforced mesh structure prevents damage to the pet's nails or teeth. The soft cushion can provide comfort and shock absorption during long-distance travel. The soft cushion on the floor provides a comfortable place to lie down and a non-slip surface for your pet.
BREATHABLE AND NON :

slip design-Multiple ventilation slots can provide airflow and keep the bracket cool and breathable; the non-slip bottom can fix the doghouse in place and ensure that it will not move easily.
Easy Install : Foldable Flat Design 2 steps Zip-up Quick Install, Space save and Super convenient for storage or carry out, smart choice for traveling!
  Package Included: 

Size mini : Length  20cm. High 14cm. Top Width 16cm. Suitable for less than 1.1 Lb.
Size S :

 

Length 34cm. High 21cm.Top Width 20cm. Suitable For Less Than 3.3 Lb.
Size M :

 

Length 43cm. High 31cm. Top Width 25cm. Suitable For Less Than 9 Lb.
Size L :

 

Length 43cm. High 32cm. Width 38cm. Suitable For Less Than 16,5 Lb.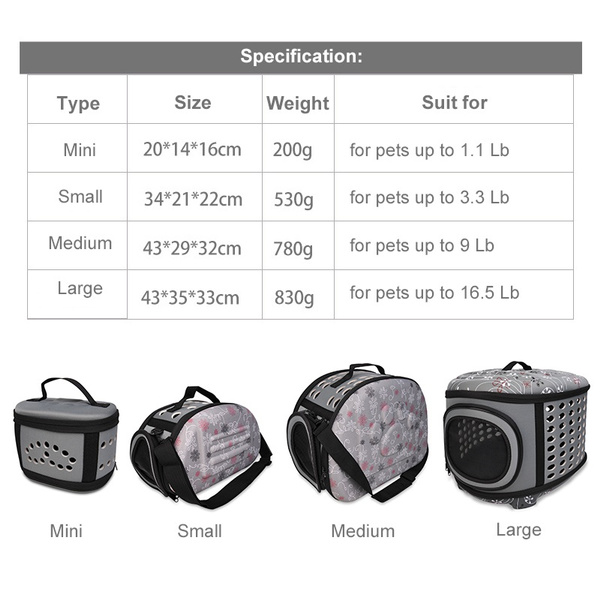 Specifications :

Color: Pink - Blue - Green
Material: EVA polymer foam + resin + Oxford cloth + mesh
Product weight: 830g
Packing size: S - M - L
Package Contents: 1 x Pet Dog Bag