Authentic Natural Green Jade Stone Roller and Anti-Aging Gua Sha Set, Beauty Massager Tool for Deep Massages and Skin Rejuvenation
Enhance your skincare routine with LATHER Jade Roller and Gua Sha Set.
Natural Jade has been used in beauty rituals for centuries, making itself known as the "Stone of Heaven." These naturally cooling stone tools were designed to massage, sculpt the facial contours, stimulate circulation, soothe the skin and promote a more youthful, radiant complexion.
Great as a gift
Ideal for use during at-home facials
Suitable for all skin types and genders
Promotes lymphatic drainage
Experience the power of jade stone with the LATHER Jade Roller and Gua Sha Set.
This facial roller helps release stiffness and tension in the facial and neck muscles. Boosting blood circulation and oxygen supply to the skin, helps improve elasticity, skin tone, and under eye swelling. Used daily it can give a more "contoured" and radian look to the face.
HEALING STONES OF THE EARTH
Our rollers are made of authentic rose quartz and jade stones from the earth.
The rose quartz rollers, both the smooth and ridged types, are made of natural stones sourced from South Africa mines. It has a subtle yet stunning pink hue.
The jade roller and the gua sha are both made of natural stones sourced from Xiuyan County, Liaoning Province, known to have healing effects.
How To Use:

Use on a freshly cleaned face with moisturizer or serum. For best results store in a refrigerator or freezer before use. After use wipes clean with a damp cloth.  See diagram below.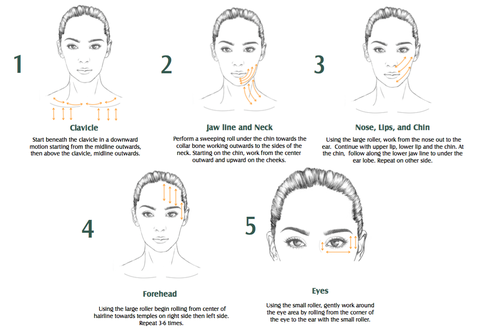 Package Included:

1X Roller
1x Board
1X Box
SPECIFICATION:
Type : Shaving Tool
Material : Jade
Color : green
Quantity : 2 pieces / set
Box Size : About 17×12.2×3.5cm / 6.69×4.8×1.37inch